Yep, you're at the right blog.  Same address, different name.  It's just more me.
Neighborhood 5k races are circulating the nation by storm… of enthuastic runners. Regardless of whether it's for charity or for an endorphin rush or both, it seems like just another beautiful morning for veteran runners. It can also be an exciting one for the beginner runner. Race day can still send twist your stomach into a pretzel – I know mine did!
That's why I smiled when I noticed some of a few bloggers that I like to read writing about how excited-nervous they are to run their first 5k races. I was in that same boat once and didn't have much helpful resources or personal accounts to turn to so lo and behold, this post is for you.
How to…. feel confident on race day!
Before the race
Think to yourself how it's just going to be another running day. This will make you feel confident and focused to enjoy the run.
Run for the distance not for speed right now and build up that comfort within time before you focus on speedwork. Unless you were running cross country/track in high school or can run a 6min mile, you probably are not going to medal and that's okay. The victory is in the finish.
Google the course map.  My last 5k race said "flat and fast" with a hill that ended up being the kind of incline you could go sledding down in the Winter. What a challenge!  Become familiar with the course and if their are hills, try to work some hills in your routine or use the incline on your treadmill runs. I always, always use the incline on my treadmill runs and gradually decrease as I finish up my mileage.
Don't run hard one day or two before the race. Take it easy.
What should I wear?   Wear one of your favorite running outfits, of course.  Stay cool during a balmy race but chic layers are key during a cool weather run.
Unless you know of family or a friend that will be watching you at the race and can hold your personal belongings (keys, phone, lip balm, etc) – I would actually get a fanny pack from any sporting goods store and get that before the race.
The night before the race
Make yourself one of your favorite meals and indulge – invite friends over or share with your boyfriend/girlfriend!  Take it easy tonight but don't have too much fun. You'll need your sleep…
Pick up your registration packet and bib so you can pin it on tomorrow's racing gear if have a chance to pick it up. If you don't have a chance to pick it up, this is okay too as long as you arrive there a half hour to an hour early where you can head over to the registration tent.
Make sure you have the directions if you're not familiar with the area and become familiar with alternative routes and detours if you run into a detour or construction.
You're allowed to take your headphones to the race at most races but double check the racing rules ahead of time. Some races prohibit it.
Get a good night's sleep.
The morning of the race
It will be dark and early than what you're usually accustomed too. You can use this time to stretch out with some yoga/pilates or go for a warm-up mile. It's crucial to warm up the muscles especially if you're running in the cooler months.  Or just relax and read the news and have a little breakfast consisting mostly of protein, healthy fats and carbs.  A peanut butter bagel with fruit and a smoothie with water would be perfect before a 5k.
Get there a half hour early. You can use this time to meet and say hello to other runners, check out the venders and yes get over your porta potty phobia. Potty often even if you only "think" you need to go – because you will need to go en route.  Or maybe I'm just the one with the porta potty phobia.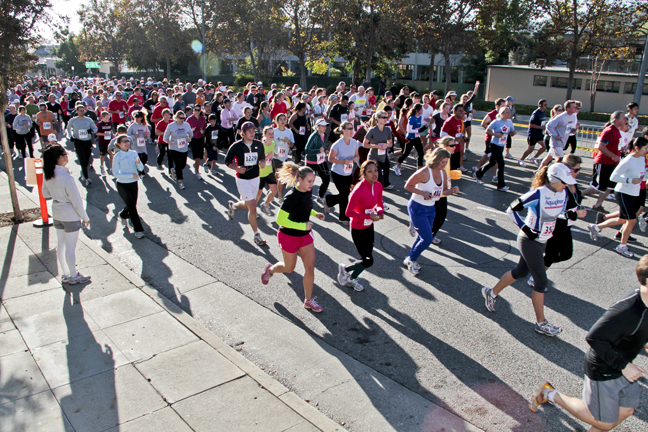 The race
If the race has corrals, go to the corral with the same colored bib as your own. If it does not, don't hesitate but start in the back. This will ease the tension of maintaining a swift pace with the swifter runners up front. It's always helpful to start off slow and when you do work yourself up, it's always better to pass someone than be passed!
Stick to the side if you're a slow runner. It's okay!
If you need to walk a few steps, that's okay too!
If you're thirsty, take advantage of the water station. It's usually set up before your very last mile. If you're thirsty and want to stop, stop but get back in there again. If you're worried about where to dump your empty cup, simply stop and throw it in the trash. The environment will thank you.  If you have a small bladder and a swig of water is going to make you burst, maybe you might want to second think the water station and drink water and pee before the race.
When you cross the finish the line, pat yourself on the back and treat yourself to a nice meal. You'll be hungry for it too!  Even if you didn't medal, remember the victory is in the finish.  As I crossed the finish line, the DJ was blasting "Glad you came" by the Wanted and they were on the chorus by this time.
"I'm glad you came…
I'm glad you came..
I'm glad you came…"
I'm glad I came too.
Does that help? Please come back after your first race to tell me how awesome it was and if you have any tips for other readers!
Until next time,
the (other) how to girl 🙂